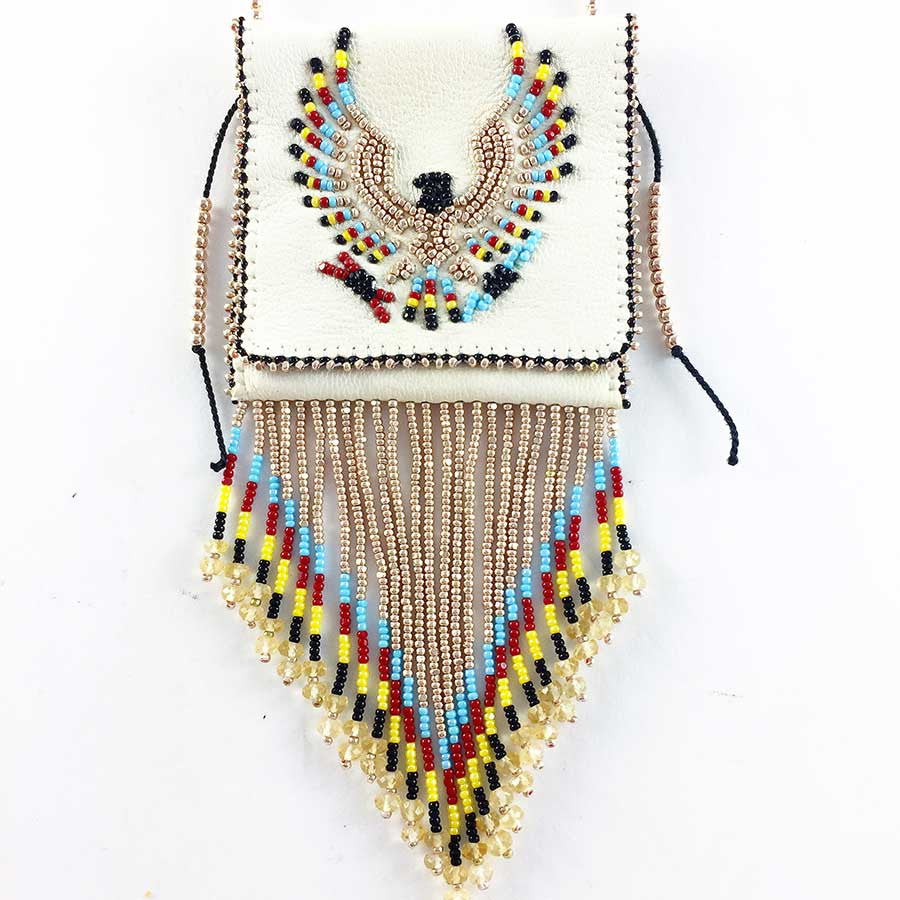 Sharing the wisdom of the Medicine Bag
A collaboration with Shakti Jewelry and Shelly Wright, a local indigenous artist and her Cree Tribe
Let me introduce you to Shelly, the insane talent behind our one of a kind medicine bags. I want to keep the tradition of the medicine bag alive and authentic while sharing it's wisdom and power. The concept of the medicine bag speaks to me so profoundly that I decided to go to the source and find someone who makes these authentic pouches associated with spiritual healing. I searched, for weeks. Made calls… Then I found Shelly by word of mouth in a small Northern Alberta town, not too far from where I live where she is a mother of 2, a wife, and deeply connected to her indigenous roots. She is very excited to be sharing the wisdom of the medicine bag…
How it works?
I provide shelly with some gemstones to bead into her tradition beadwork. She makes & beads the pouch and Shakti Jewelry does the necklace part of the bag to finish it off. It truly is a match made in heaven. We both are doing what we love and we both get to express our full creativity while keeping the wisdom of the medicine alive.
Our one of a kind medicine bags can be found here.
1. Can you briefly describe who you are?
I am a mother of three and a member of the Cree tribe.
2. What is your cultural background?
I'm glad you asked that question. People are often afraid to ask, and I always say, "Don't be afraid to ask." It's important to talk about and it helps people understand each other. I am a member of the Cree tribe, in the Ermineskin band.
3. How did you first get introduced to beadwork? Who taught you?
It was my relatives primarily. Mostly it was aunts and cousins, but really it was a community effort. Neighbours and family would get together at someones house so we could do it as a group. It is a very social experience.
4. What themes or stories inspire you to create?
I draw my inspiration from nature—animals mostly. When a woman asks me for a custom piece, I like to spend some time talking to her to get a feeling for her background and the colours she likes. I get a feeling for her and then pick something from nature that has similar traits to what I sense in her. Then I create something and present it to her. Often, I surprise them with the results and they see something that they hadn't seen in themselves before. Interestingly, it has never failed me.
5. Can you describe the meaning behind the beadwork that you do?
Every colour represents a mood. If I'm building a piece specifically for someone, I may use their family colours, but if I'm just designing a piece, the colours usually reflect the mood I'm in when I'm creating it. For example, if I'm in a bad mood, there will be a lot of dark coloured beads. Usually, I'll use a lot of green, which indicates calm and mellow, and blue, which is the colour for strength.
6. What do you hope others can gain from your generosity in sharing aspects of your cultural heritage?
I would like to open up my culture to the world. Most people don't know much about us and I believe that if they did, they would be more open to it.
7. Can you share some knowledge about the importance of Medicine Bags with us?
Years ago, the medicine man would ask you to make a medicine bag of a certain colour, then he would take it and fill it with rocks, sweet grass, and herbs with healing qualities. The herbs would awake the spirits and the stones would protect the person who was wearing the medicine bag. Medicine bags were originally intended to be worn under the clothing but today they are more of a statement.
8. Can you talk about the symbolism of the eagle?
The Eagle conveys the powers and messages of the spirit. The Eagle is a symbol for great strength, leadership and vision. The eagle is the chief over all the winged creatures. Eagle conveys the powers and messages of the spirit; it symbolizes our connection to the divine.
With love and gratitude,
Sarah Bowker